baby oliver . feelings 2 [12" environ, 2007]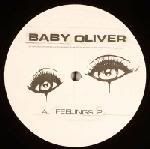 em "hypochondriac" baby oliver cantava qualquer coisa como
"
you think you're sick of me - but you're a hypochondriac
"
e um tipo, lá está, lamentava não se ter lembrado de dizer isso antes. agora o lema é "
you just give me sex when I need a love fix - and you know that's not the same
".
escusam de procurar um "Feelings 1" - tal coisa não existe. "Feelings 2" é a continuação para a letra citada acima ("i've got feelings too" remata oliver, como quem acabou de descobrir que saiu de uma experiência amorosa péssima para outra ainda pior) cantada num contexto de
disco
distorcido e mutante, algures entre os new order dos primeiros tempos (talvez a influência mais óbvia), prince e depeche mode.
desconheço se baby oliver é mesmo um alter-ego de
morgan geist
, se isso se trata apenas de um boato ou se saber isso chega, sequer, a ser importante. sei que baby oliver tem um jeito especial para o refrão certeiro.