bangkok impact . missionary on mars [12" clone, 2007]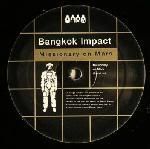 bangkok impact tem um novo maxi.
eu gosto de bangkok impact. tem linhas de baixo impressionantes e grandes beats, do tipo chicago e rimini na mesma garagem e é suposto sabermos, à partida, com o que podemos contar. no entanto, as três versões de "missionary on mars" aqui incluídas seguem caminhos distintos entre elas: mais esquemática o original (simples, "electronic disco with elements from house and techno" como escreve sami liuski na apresentação do seu projecto), jack na versão red planet e pigna típico (do tipo francisco, passarani, etc - pigna é a editora desta malta mas pigna people também é o nome do projecto que francisco mantem com passarani) na abordagem de raiders of the lost arp. este último é, como diriam os espanhóis, um temazo.
ah. sami liuski, para além de ser bangkok impact, também é um dos tipos dos putsch 79.
http://www.myspace.com/bangkokimpact