magda . stop [12" m_nus, 2005]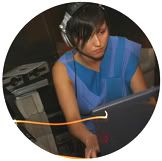 the first solo ep from magda (real name magdalena chojnacka) on richie hawtin's label 'minus' (Canada). 'stop' follows up her minus debut contribution to 2005's 'minimize to maximize' compilation. magda's very first release was as one of the third of 'run stop restore' (troy pierce, marc houle) with 'geometry' in 2004. 'stop' is tight and elastic at the same time, stacked intricate sounds slowly build in a mental manner as she turns notes into noise and reveals beats from padded basslines. '48 hour crack in your bass', 'lockjaw' & 'panna cotta eyes' swings itself thrust-like gradually on operating temperature and even when the customer means the highest point is reached, follows the next step. the floor killer on this ep is 'oblivicleas', a harmonic electro-pop inspired production.

em http://www.nightgen.com/
a música de magda é mais abrasiva e menos cerebral do que a do seu associado richie hawtin [para quem abriu a tour "de9:closer to the edit"], simultâneamente subtil e sem concessões a fórmulas fáceis.
o techno minimal nunca foi tão hipnótico como aqui; uma espécie de sedução sem esforço, em que o prazer está no desvio, na curva inesperada perante um grão de areia, e não na simples funcionalidade dançável.
depois de hesitar entre "48 hour crack in your bass", "lockjaw", "oblivicleas" e "lockjaw" de novo, acabei por voltar a "panna cotta eyes", provavelmente o momento maior de uma óptima estreia, como pode ser confirmado
neste excerto
com cerca de dois minutos e meio.