boy robot . rotten cocktails (cd city center offices, 2005)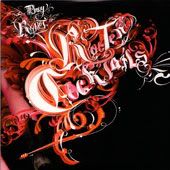 lá fora a chuva cai e la la la
continuando a interpretação de capas de discos iniciada no post anterior (e terminada neste mesmo, prometo), "rotten cocktails" parece ser à primeira vista um objecto perdido do
electroclash
.
por outro lado, o carimbo da city center offices baralha a primeira interpretação, sugerindo estarmos na presença de mais um exemplar
folktronico
; o mundo já remoto em que o acústico e o digital se fundiam para produzir uma música apresentada como nova mas que não andava muito distante do
shoegazing
do inicio da década de 90.
no entanto as meias de rede rosa choque que ilustram a contra-capa e músicas de caracter duvidoso como "music toys for girls and boys" são enganadoras.
vacilando entre um certo ambientalismo romântico caracteristico da
idm
["sweet honeybee of infinity" é boards of canada
vintage
, "live in vanilla" é aphex twin dos tempos de "richard d. james album"] e a música de dança mais funcional [os exemplos sucedem-se] a dupla Hans Möller e Lux Nigra estende padrões ainda pouco explorados e elabora um disco com personalidade vincada, apesar de heterógenea, emancipado e francamente inspirador.
"inspirador para quê?" perguntará o leitor mais atento.
eu vou ali e venho já.